2019
Virtuosity That Leaves You Speechless
Udo Barth, Badische Neueste Nachrichten – Badisches Tagesblatt, 21. March 2019
---
The pianist turns up the tempo – Caroline Fischer impresses the audience at the Bürgerhaus Neuer Markt
Carl Maria von Weber's famous "Aufforderung zum Tanz" (Invitation to the Dance) can only be tackled with self-confidence and gumption, both of which definitely run through the pianist's veins. Her performance was not only virtuous and spirited but also lively, elegant and complete. Robert Schumann's "Papillons" also rang with the same poetic spirit in which Schumann created his character piano pieces. Without turning it into a tear-jerker, Fischer still dealt with the delicate emotions of the music in a sensitive way. The pianist has already proven her virtuosity, but now she raised the bar even more by adding Franz Liszt's "Gnomenreigen" (Dance of the Gnomes). She was energetic and began the performance with a delightfully rousing interpretation. Liszt would have really appreciated it. Even the second Liszt piece, which is no less demanding – the "Hungarian Rhapsody" – left nothing to be desired. Again Fischer dove into the depths and fascinated with unbelievable technique, and she paid attention to unusual phrasing and was able to maintain a wonderful dance-like momentum, especially in the rapid folkloristic motifs. The audience was enthusiastic and it showed. The pianist thanked the audience for their energy with two encores: first, "La Campanella", the third of Liszt's Paganini Etudes, a firework for ambitious pianists, and then, in contrast, in very quiet, poetic tones with the wonderfully played "Träumerei" by Robert Schumann.
Karl-Heinz Fischer, Badische Neueste Nachrichten – Acher and Bühler Bote, 21 March 2019
---
Trio Enchants the Audience
Bonner Generalanzeiger, 22. January 2019

---
2017
---
CD review – Opusklassiek.nl
On the 'Pearls of Classical Music' CD you will find, as the title implies, pearls or more correctly 'little pearls' of classical music. As parts of one piece, they are all miniatures. Whether or not they are considered pearls is a matter of (your) taste. For the pianist, there is no doubt. This is exactly how she plays these works – with fine touches of the keys and a crystal clear phrasing which is both brilliant and lyrical. This, combined with the dynamic build-up of tension and rhythmic finesse, bears witness to her great understanding of music. Of course, the majority of the pieces are not highly complex. However, from a technical point of view, they are demanding enough to be too challenging for less accomplished pianists. Fortunately, this cannot be said of Caroline Fischer. She is technically accomplished and interprets the works with the certainty of a musician who knows exactly what she wants before sitting down to play. Right at the beginning, she amazed me with her lively, almost frivolous Haydn (with a beautiful, expressively worked middle section). With Chopin and Liszt, she plays her cantabile style as her trump card. The recordings were made in May last year in the Mendelssohn Hall of the Gewandhaus in Leipzig. I remember being in this same concert hall, hearing a Steinway with exactly the same sound. This speaks to the quality of this recording and the responsible person, Claudia Neumann. In short – an excellent production.
Aart van der Wal, Opusklassiek.nl, September 2017
---
CD review – Durch und durch leidenschaftlich – The New Listener
The title of the present CD wonderfully reflects the style of Caroline Fischer: Piano Passion. Passion is the maxim of the German-Korean pianist, who is driven by inspiration and intuition. It is exactly through these final gripping moments which are felt internally and make sense to the listener. On the other hand, leaving everything to intuition can result in shallowness and overwrought effects It is difficult to describe Fischer's style as uniform. You can expect the unexpected, and for her to do something new. Crystal clear rustling and forward slanting booming can be heard in the outer movements. Fischer's strokes remain lucid and light throughout. She delivers the finale of the Appassionata and Schumann's Sonata in G minor with sensitivity. Only the opening movement from Beethoven's Opus 57 seems flat and lacking in orientation in places In the Romance Variée Op.3 by Clara Schumann, she underscores the femininity of this work, which was written at the height of her success and included all the musical and pianistic challenges. In Beethoven's and Robert Schumann's music, she chisels away at the masculine and unflinchingly determined features. She lets the chords belt out powerfully (but at the same time, by emphasising the high notes, mellows the famous close knit deep chords of Beethoven's sonatas) and lets the forte resonate with power. Caroline Fischer is able to bring out many a hidden detail and confronts the popular pieces in an individual way, giving them a personal and unique characteristic, which can result in something truly new.
Oliver Fraenzke, The New Listener, August 2017
---
CD review Piano News Magazine
The German-Korean pianist Caroline Fischer has put together a range of colourful, well-known works on her record "Pearls of Classical Music". Listeners who expect a "best of" edition are openly met by a confident pianist, as this selection gives her the opportunity to showcase her own diverse musical talent. She begins energetically and trenchantly with Haydn's Piano Sonata no. 39, quickly followed by Beethoven's "Rondo Cappriccio," also known as the "Rage Over a Lost Penny". Chopin softens and lightens the mood, and is followed by a virtuosic "Liebestraum" and "Konzertparaphrase" by Liszt. With Camille Saint-Saëns' "Allegro appassionata" Op. 70, and Études from Sergei Lyapunov and Moritz Moszkowski, Fischer advances into the early 20th century. Caroline Fischer is known as an accomplished and spirited pianist.
A. Renczikowski, Piano News Magazin, Mai 2017
---
CD review – Klassik-heute.com
What power! What an elemental force! What an incredible emotiveness! And what's more: What passion! This is also the title of the fourth and newest album from the pianist Caroline Fischer: "Piano Passion". After paying homage in particular to the virtuosity of Liszt, the German-Korean pianist is currently dedicating her attention to passion, including the passion within love, and expressing it in music.
Passion is the driving theme behind Ludwig von Beethoven's Appassionata Op. 57 and his Pathéthique Op. 13, both of which Caroline Fischer approaches with zealous fervour. She thunderously begins the Appassionata and develops a melodiously logical current through her full-bodied, rounded and simultaneously flourishing tone, which immediately binds her audience in its spell. The Appassionata's unbridled final movement, the panicked and impassioned tempo of which was noted by Joachim Kaiser as evidence of "organised chaos", is perhaps approached too logically by Caroline Fischer, who seeks order in its furious turmoil and finds it throughout. This approach is enabled by her stupendous virtuosity, and her interpretation is wholly convincing.
Caroline Fischer allows the "Grave" beginning of the Pathétique to end in a question, and brings psychological depth into the purely dramatic-pathetic. She is decidedly unsentimental toward the Adagio's consecrated pathos, and as philosopher Ernst Bloch would phrase, approaches it with "an exact, correspondent logicality" as a sort of "melody of logic".
Robert Schumann's relationship with Clara Wieck was also characterized by agonizing passion from its outset. Clara Wieck's "Romance variée" Op. 3 is a product of this passion. Clara modifies a theme once given to her by Robert, with love and pianistic brilliance. Caroline Fischer devotes herself to this rather more extrinsic music with equally loving dedication and commitment. Schumann's Sonata in G minor Op. 22 is significantly weightier. Clara Wieck, Schumann by marriage, said once that one can recognize Robert's "whole nature" in this Sonata. Caroline Fischer approaches this Sonata with quivering intensity, though she refuses to risk or give in to the final rushed instability of the fast movements – the "drunkenness of feeling" which Nietzsche so loathed – but even here remains logical and controlled, and emphasizes transparency. She indulges in the entrancing sound-world throughout the slower movements. This is supported by the sound engineers expertise, who emphasizes the piano above all else and thus creates a full, natural, and piano-dominated stereophonic sound.
Rainer W. Janka, Klassik-Heute.com, 7. April 2017
---
CD review – Aufbruch in die Romantik – European News Agency
Ludwig van Beethoven's soundscapes are multifaceted and diverse. Born into the golden age of the First Viennese School, he may have been the greatest innovator in musical history. His piano sonatas are one of the central components of his works. They could certainly be seen as a musical autobiography.
As such, they clearly portray Beethoven's musical development while simultaneously showing an interaction between his progress as a composer and his concept of sound at the time. The enormous differences between his works that are separated by only a few years show us just how avant-garde Beethoven truly was. It requires the interpreter to have a great deal of sensitivity in order to do each work justice, and this sensitivity is one of Caroline Fischer's advantages.
Next to the works of Clara and Robert Schumann, her new album presents two Sonatas which were very characteristic for their time, and which today belong to the most valued piano compositions: the Sonata in C, Op. 13 "Pathétique", written in 1799, and the 1804 Sonata in F, Op. 57 "Appassionata", which is considered one of the greatest masterpieces in piano literature.
Two soundscapes, only connected by their composer – that is here, aside from the technical demands, the greatest challenge. Fischer brilliantly masters them, and is even able to bring to life the differences which originate from the development of the piano, given that the instrument was experiencing great strides in its development during the early 19th century. This level of subtlety and delicacy is truly extraordinary.
Clara Wieck was one of the most important pianists of her time, and her father Friedrich made every effort to promote her talent. She met and fell in love with Robert Schumann during her childhood, which was less pleasing to her father. He intended his daughter to have a career as a pianist, not as a housewife. Clara stayed connected to music her entire life, not always to Schumann's delight. He supported her ambitions as a composer, and Caroline Fischer has contrasted the "Romance varié pour le Piano" Op. 3 with Schumann's Sonata in G, Op. 22.
A highly emotional style of music developed here – often closely connected with the current events in the composer's life – on the ground which Beethoven sowed. Clara Schumann appears to have inspired Fischer, and regardless of her analytical methods, her approach always originates from the music and returns to the musical essence of each piece. The music itself is always the centrepiece – that was and is the mark of a great interpreter.
Dominik Lepuschitz, European News Agency, 24. March 2017
---
CD review – Mut zum Standardrepertoire – The New Listener
To record a program that consists largely of every concert pianist's standard repertoire requires courage – since one is immediately compared with all the greats of the classical music world – and, above all, a personal approach that suits the works without being arbitrary. German-Korean pianist Caroline Fischer achieves both, and publishes a colourful mix of works from Haydn and Beethoven to Moszkowski and Lyapunov on "Pearls of Classical Music".
Fischer's approach is unique and unmistakable, bringing together sharpness and mellow, almost fragile, caution. Caroline Fischer boasts an enormous spectrum and dynamic nuances, using them for piano and pianissimo to full effect. In this way, melodic lines come alive with reckless abandon and flow back together, with Fischer knowing when to place the right accent in the right place, and in general creating the right balance between excitement and relaxation.
Haydn's Sonata in D major Hob. XVI: 24 is a playful and unpretentious sonata, especially in the marginal movements. With its dynamically reflective design, a stringent grasp of form is brought to the fore. In view of the measured tempo, the middle movement could tolerate more brilliance and fullness. As in almost every newer recording, Beethoven's Rondo a capriccio in G major Op. 129 rushes through her fingers too quickly, although Fischer also reveals magical subtleties and presents an almost intoxicating voice. Weber's Ronde brilliant E flat major Op. 62 enchants with its swing and dancing charm, and with ease and playfulness. When it comes to Chopin, Caroline Fischer is fully absorbed, does not drowse too much in the tender style, uses rubato wisely and lets a variety of intermediate shades of sound shine through. With Liszt's love dream no. 3, this would be equally desirable – dreaminess and inner passion are not included enough (although her take is interesting, as this work is usually only performed "excessively dreamily"). The following four virtuoso works are at a high level, winning the audience over with their finger-breaking virtuosity and effortlessness.
"Pearls Of Classical Music" is definitely worth it, as the frequently heard works all have their own message and offer the listener the opportunity to experience other aspects of the music.
Oliver Fraenzke, The New Listener, Februar 2017
---
CD review by Dominik Lepuschitz – European News Agency: Fischer's Pearls
No, this is not about Georges Bizet's opera – rather about a very amazing young lady called Caroline Fischer. She is a pianist and has released a CD entitled "Pearls Of Classical Music", which is many things, and is far from ordinary.
It is already clear after the first passages that in this artist everything is united, and this goes to create the perfect pianist. She is very familiar with the requirements of the style of the respective music and how it is to be transposed, has the courage to withdraw tempo, and when it needs to get to the point, every note gets the space it requires to sound, even in the most extensive runs, nothing is lost. This combination of power, precision, and sense of style, coupled with a great expressive range, enables her to be at home in all eras. This is truly exceptional.
Her new album takes the listener on an exciting journey through piano literature, where besides well-knowns such as the "Rage Over A Lost Penny" by Beethoven or Liszt's "Liebestraum", there is also a sonata by Haydn or the "Allegro Appassionato" by Saint-Saëns to be found. Chopin and C.M. von Weber are represented, as well as Sergei Lyapunov – today still a lesser-known Russian romantic – or Moritz Moszkowski, who has been apparently rediscovered by the young piano generation – much to the enrichment of the music world today.
Caroline Fischer presents here a representative cross-section through piano music, which will reach and delight music lovers of all types and demands, from the beginner to the acknowledged expert – and those who know nothing at all about classical music could find access here which then leads to new paths.
Dominik Lepuschitz, European News Agency, 23. February 2017
---
CD review Pizzicato Magazine
The German Korean pianist Caroline Fischer has recorded on her CD 'Pearls of Classical Music' a programm with miniatures by  Beethoven, Weber, Chopin, Liszt, Saint-Saëns, Moszkowski and Lyapunov as well as Haydn's 39. piano sonata. She performs the pieces highly agile and virtuoso, with much lightness and charm."
Remy Franck, Pizzicato Magazine, 29. January 2017
---
CD review by Mr Stefan Pieper at klassik-heute.com

The German-Korean pianist, Caroline Fischer, has now reached global career status. When she entitled her newest recording "Pearls of Classical Music", this was not meant to be taken as a commercial high-gloss label, but rather as a thoroughly honest working title for her latest project. So almost everyone, who has allowed themselves to be carried away by this CD of Caroline Fischer's playful energy, should also experience in so many details her grandiose agility and technique, as well as diverse creativity. One feels aroused, refreshed, and touched – just by Caroline Fischer's vibrant articulation skills on the black and white keys alone! And one is astonished how self-evidently and delicately this interpreter mobilizes all this potential.
Haydn's Piano Sonata no. 39 is truly a "classic" prelude to such a range. Here Caroline Fischer shows her talent, vigorously accelerates the figurations in the first composition, allows much intimate sentiment in the slower composition, and then allows it to fall into a trenchant finale.
Caroline Fischer plays confidently enough that even extremely famous masterpieces not only sound beautifully polished, but also as if they have just been created: Beethoven's Rondo Capriccioso, which is concerned with the "Rage Over a Lost Penny", energises this pianist at an almost dizzying pace. The playful melody undergoes ingenious modifications, variations and adjustments. The whole renascent intriguing mechanics here make Caroline Fischer's playing amazingly straightforward and vivid, and thus can be experienced without any issue (otherwise often more explainable by technical playing difficulty).
Then just immersing yourself with an effortless change into the stylistically safe "Chopin Feeling", testifies once again that Caroline Fischer knows every trick. Maximum expressiveness and a further contagious ease are no contradiction. What is all this together: A breathing, often poignant agogic, pensive delirium, impulsive urges, at the same time a rhythmically drifting waltz shape, on top of which is a fragile singing voice.
Franz Liszt's colossal virtuosity has already been addressed by Caroline Fischer on her previous CD "Lisztomagia". If she has considered Franz Liszt for this latest work, then the more romantic and intimate facets of this music are the focus – somewhat in a nostalgically transfigured Rigoletto paraphrase.
Further repertoire discoveries make inroads in the early 20th  century, whereby it is never about new tones, rather always about the musician and vitally progressive music. The "Allegro appassionata" opus number 70 by Camille Saint-Saëns at least shares this with the études of Moritz Moszkowski and Sergei Lyunov. The format of the étude is indeed much more than a piece of practice music. It almost seems as if this format had been invented just for Caroline Fischer – as a spacious playground for this spirited musician, who gladly "takes" her enthusiastic listeners with her wherever she likes.
Stefan Pieper, Klassik-Heute.com, 10. January 2017
---
hr2 Kultur CD-Tip 'Pearls of Classical Music' (broadcast with live moderation)
26. December 2016
---
2016
Caroline Fischer's 3. CD
Unser Frohnau, Dezember 2016
---
Berlin-Frohnau Pianist initiate "Rising Stars Contest"
Unser Frohnau, September 2016
---
Pianista aleman sorprende en nuevo concierto de la Temporada Internacional U. Mayor
Universidad Mayor Santiago de Chile, 6. Juli 2016
---
2015
Advent of a piano maestro
Bangkok Post, 9. December 2015
---
Advent piano concert with award-winning pianist Caroline Fischer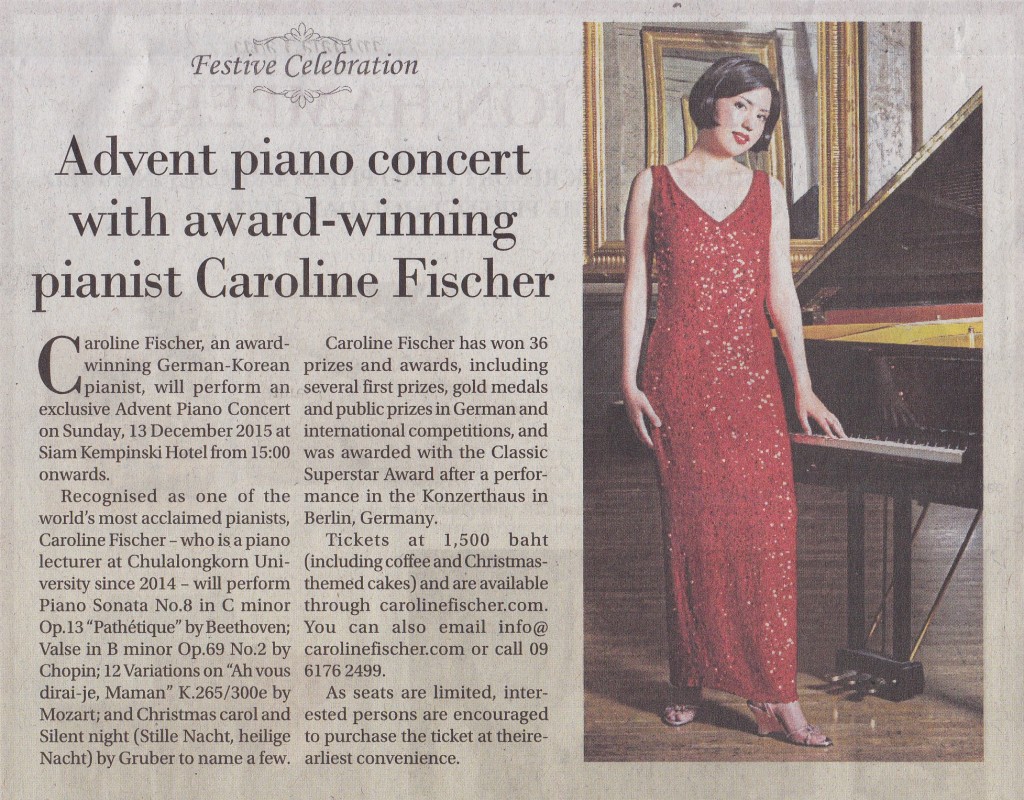 Bangkok Post, 9. December 2015
---
World-Famous Pianist Amazes Bangkok Crowd Caroline Fischer Live

luxurysocietyasia.com 13. March 2015
---
Caroline Fischer – The Classical Wunderkind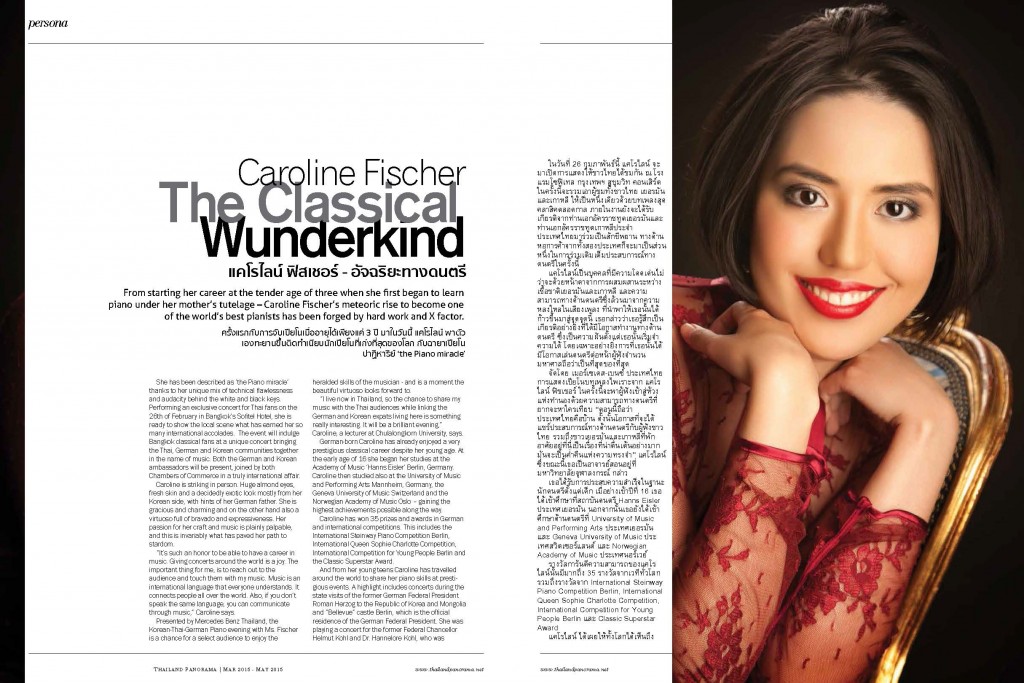 Panorama Magazine, March 2015
---
Pianist Caroline Fischer to perform in Bangkok

Bangkok Post, 19. February 2015
---
Caroline Fischer – Award-Winning German Pianist Live in Bangkok
luxurysocietyasia.com, 10. February  2015
---
Caroline Fischer – Cover Story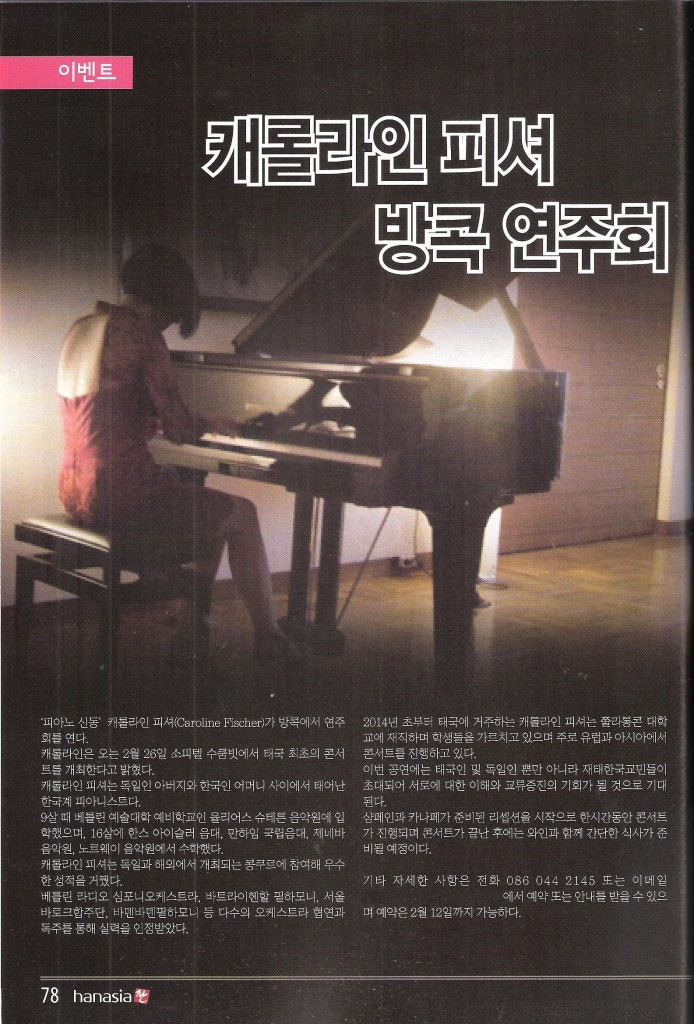 PANN Magazine, 5. February 2015
2012
---
The genius pianist Caroline Fischer




International Piano Korea Magazine, May 2012
---
Seavolution Expo, May 2012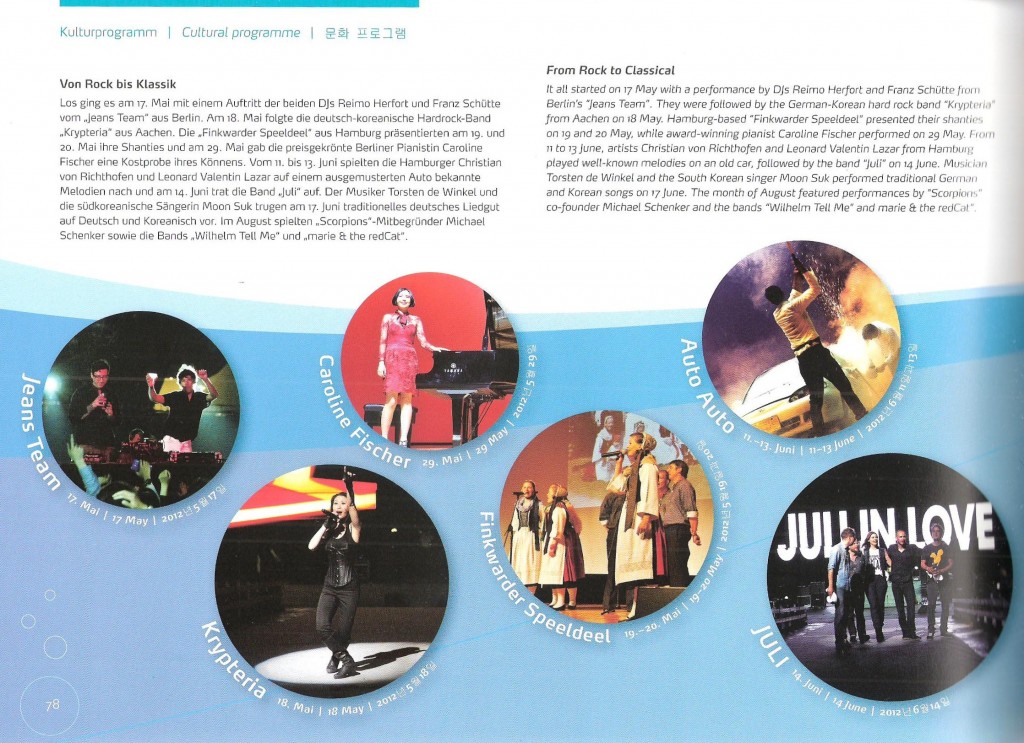 Seavolution Expo May 2012 Yeosu, South Korea
---
Korean-German pianist breaks cultural barriers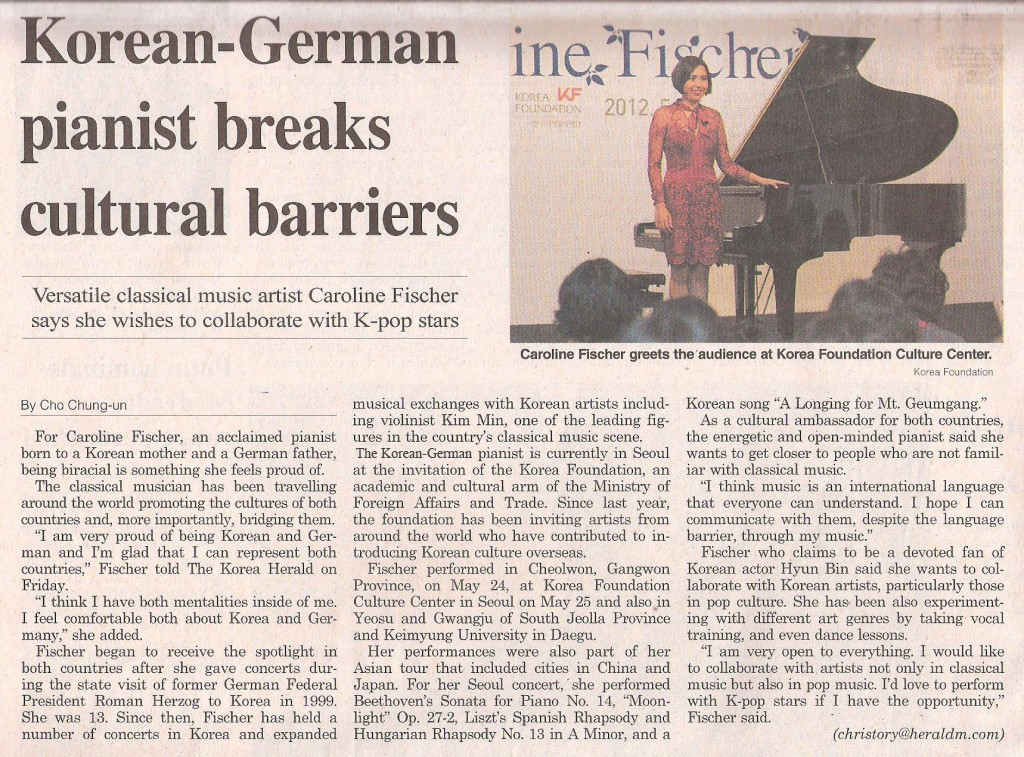 The Korea Herald, 28. May 2012
---
The German-Korean pianist Caroline Fischer
---
The genius pianist Caroline Fischer will perform in Gwangju

Kwangju Daily Newspaper (광주 매일신문), 21. May 2012
---
Seavolution EXPO May 2012

Seavolution EXPO May 2012 Yeosu, South Korea S. 2
---
2009
---
Caroline Fischer Plays: Piano Pieces by Franz Liszt – Acrobatic Artistry
On her second solo CD recital, Caroline Fischer not only demonstrates that such music can sound fantastic of you have the right skills, but also that it is great fun to listen to the thundering passages and flicher of the Mephisto Waltz No. 1 and Rhapsodie Espagnole which, in technical terms, border on the limits of the humanly possible.
Quite apart from the atmosherically dense sonority which she produces here, one is capturde much more by the marked sensibility with which she succeeds in weaving the ever flwoing melodic part into the accompanying murmur of broken chors.
The content of the CD largely consists of piano works of more or less familiar acrobatic artistry such as the "Rhapsodie Espagnole" or the "Mephisto Waltz No. 1". Yet, in addition to the Ballade No. 2 in B minor, with a duration of around 15 minutes, Miss Fischer also includes the not so popular Ballade No. 1 in D flat major which gives her "Lisztomagia" CD the requisite degree of balance. First and foremost, it is her almost unheard of serenity which wins one over, the plasticity and precision with which she shapes chains of chords, octaval transpositions, runs and the rhythmical complexity. The latter applies especially to the "Valse Impromptu" and its many sudden little caesuras. Miss Fischer does not seem to know the meaning of wrong notes. Her Liszt album makes us curious to find out which new paths she will forge next. In any event, she possesses enough talent to achieve great things.
Aron Sayed, klassik.com, 31. Juli 2009
---
CD-Review published in The Daily Newspaper Leipziger Volkszeitung
It is lovely when, even before the advent of his 200th birthday, someone takes up the cudgels on behalf of that great musical magician Franz Liszt, who was a visionary (not only) of the piano. This is all the truer when it is done as elegantly and unpretentiously as it is under Caroline Fischer's hands. Her approach to Liszt is shaped by the musical line, she focuses on the transparency and structure, whether it be in the magnificent transcriptions of songs by Schubert or Schumann in the dissembling Mephisto Waltz No.1.
Peter Korfmacher, Leipziger Volkszeitung, 10. July 2009
---
CD review written by Peter Cossé at klassik-heute.com
Following her Genuin debut CD with works by Liszt, Debussy, Chopin, Mozart, Scarlatti and Shchedrin (GEN 86068) Caroline Fischer now grabs our attention with a programm devoted exclusively to works by Liszt.
Caroline Fischer begins her recital with two of the most popular Schubert transcriptions: she is secure and self-assured in defining the approprate character of these pieces, whether sond-like and beholden to love, or pianistic in nature. Here, the instrument serves to echo the most beautiful human relationships, hopes and possibilities. With regards to the little grace notes, Miss Fischer satisfies all purity requirements, and invests drive and passion without losing that formal overview which these small, self-contained inner landscapes suggest to the interpreter.
Looking at Caroline Fischer's choice of recital pieces, it is relatively concise Ballade No. 1 in D flat major which – apart from "indispensable" ones – first catches one's eye and then, pleasantly, one's ear. With a few exceptions (Leslie Howard, or perhaps the late Cziffra) this charming work, which however gives the appearance of being somewhat unfinished both thematically and structurally, was and still is avoided. However, performed together with the B minor Ballade a kind of "doubles" emerges with prelude and main section. Caroline Fischer shows nerve, displays energetic attack and, with rhythmic elasticity, steers the first part onwards with clear contours. Then, with full pianistic vividness, she proceeds to execute the undulations of the B minor tremolos reminiscent of the second St. Francis Legend.
Caroline Fischer knows how to build up to pivotional climaxes, and to master them with verve and a willingness to take risks. She understands – for instance at the start of the Mephisto Waltz – how to provoke an acrid atmosphere in marked contrast to the melancholically sentimental variations of the middle section.
Peter Cossé, klassik-heute.com, 12. June 2009
---
2008
---
Caroline Fischer comes onto the stage, at once exhilarated and clearly delighted to have found such a wonderful partner in the young conductor. Now she can get started: pulsating bass figures, striking chords, trills and runs. There are no technical problems for this pianist, so much is clear from the solo passages which she imbues with detailed phrasing, and the cadenzas which she masters with virtuoso brilliance. In the Adagio, the conductor succeeds in conjuring up the atmosphere of a summer's night and, like a nightingale, the pianist improvises her solo, singing out softly and brightly. The turbulent final movement is a dialogue played out between the orchestra and soloist, who performs her role with effervescent power and virtuosity. As it comes to its dance-like close, the audience erupts into tumultuous and long-lasting applause.
Wolfsburger Nachrichten, Wolfsburg, 8. May 2008
---
Rausholen, was in der Partitur steht

Wolfsburger Nachrichten, Wolfsburg, 8. Mai 2008
---
Bravoes for Pianist Caroline Fischer
The performance of Edvard Grieg's Piano Concerto in A minor op.16 was Caroline Fischer's finest hour. The pianist from Berlin proved why she is already a star. It was astounding how powerfully this graceful pianist mastered the demanding Allegro. Impressive, too, with how much feeling she stroked the keys in the Adagio. The perfect ensemble playing with the orchestra was remarkable. That had class. Bravo!
Wolfsburger Allgemeine Zeitung, Wolfsburg, 8. Mai 2008
---
2007
---
Caroline Fischer – the beautiful classical music genius

Jingzhou Evening Newspaper, China, 21. November 2007
---
Pianist sets a virtuoso peak
With a highly energetic attack, which in the rapid passages shone with brilliance, the young pianist blended seamlessly into the overall sound and reached a virtuoso peak with her encore of "La campanella" by Liszt.
Westfälische Rundschau, Unna, 19. Dezember 2007
---
A sparkling festivity – standing ovations at the Festspielhaus Christmas concert
The soloist guaranteed an evening that was a sheer delight to the ear : With bravura Caroline Fischer polished the literature to a shining brilliance.WAZ, Gelsenkirchen, 17. Dezember 2007
---
Caroline Fischer plays a piece from her favourite composer
On 24 August, Stendal's honorary citizen Eugenia Jütting would have been 100 years old. The festive piano recital held in her honour, given by the former Jütting scholar Caroline Fischer, would most certainly have lived up to her wishes, had she been there to experience it.
The event opened with works by Franz Liszt. The first piece, the Hungarian Rhapsody Nr 13 in A minor, was played by the internationally celebrated pianist with superior virtuosity, reminiscent of the style of the great artists of the 19th century. This work places enormous demands on the capabilities of the pianist in order to do full justice to the overflowing melodic content of the piece.
It was followed by "Valse Impromptu" and the "Mephisto Waltz". Here too, Liszt wrote highly expressive pieces that are reserved for only the most capable of pianists. Caroline Fischer interpreted them in a passionately expressive way.
The idea of encouraging friendship among nations through music was one which the pianist Eugenia Jütting was particularly attached to. The event was rounded off by works by the Polish composer Frédéric Chopin, who was her favourite. Once again Caroline Fischer shone with 5 Etudes from op. 10. The emotionally moving climax of the evening was the "Andante spianato et grande polonaise brillante" in E flat major, which was performed with great expression and devotion in a manner which was technically brilliant.
Volksstimme, 28. August 2007
---
"Wednesdays at 4 p.m." with outstanding artists
At the piano, Caroline Fischer proved herself to be a spirited interpreter, at once both commanding and sensitive. She plays Grieg with her heart and soul, in a way which is powerful and superior, and which goes to confirm her interpretation as a mature musical statement. Pulsating energy flows through her hands from piano through to forte. In the very solemn Adagio, her velvety piano was full of intensity, just as elsewhere, too, the music was brought to life under her hands. In the Allegro marcato, the lyrical section was defined with great sensitivity. In the jubilant fortissimo, she imparted a great sense of tension.
Badische Neueste Nachrichten, 8. June 2007
---
Four young soloists excel with brilliant performances
Caroline Fischer played the solo part in the Concerto for Piano and Orchestra in A minor op. 16 by Edvard Grieg. Ms Fischer can look back on numerous first prizes and honours awarded at major competitions. At this concert too, her performance left nothing to be desired. Her perfect technique – coupled with emotional sensitivity – revealed the beauty and greatness of this Romantic composition.
Badisches Tageblatt, 8. Juni 2007
---
Nipping kitsch in the bud
The 22 year old Berliner Caroline Fischer takes her seat at the piano in the Chamber Hall of the Philharmonie and takes a brief moment to stop and think. After attuning her spirit and hands entirely to the music and her instrument, she begins to intone the accompanying figures of Beethoven's Waldstein sonata. One feels at once that this pianist loves connectedness and closeness, she does not allow herself to become entangled in passages of highly emotive lyricism. Then comes the finale, whose frenzied figures she plays with an almost porcelain-like tone instead of crowing brilliance. After the break, she succeeds in making a bravura piece of Liszt's Rigoletto paraphrase, which can often seem kitschy in other hands; meditative, performed with an almost stylised hesitancy. In Chopin's 12 Etüdes op. 10, she gives an elegant account of the musically less interesting pieces of the cycle and imbues masterpieces such as the mysterious E flat minor Etüde, or the brilliant final piece, with wonderful accents. Ms Fischer is not one of those young pianists who are in danger of burning themselves out in the classical music business. We will still be hearing from her in ten or twenty years time.
Ulrich Pollmann, Der Tagesspiegel, 9. January 2007
---
2006
---
The talented German pianist showed her gorgeous technique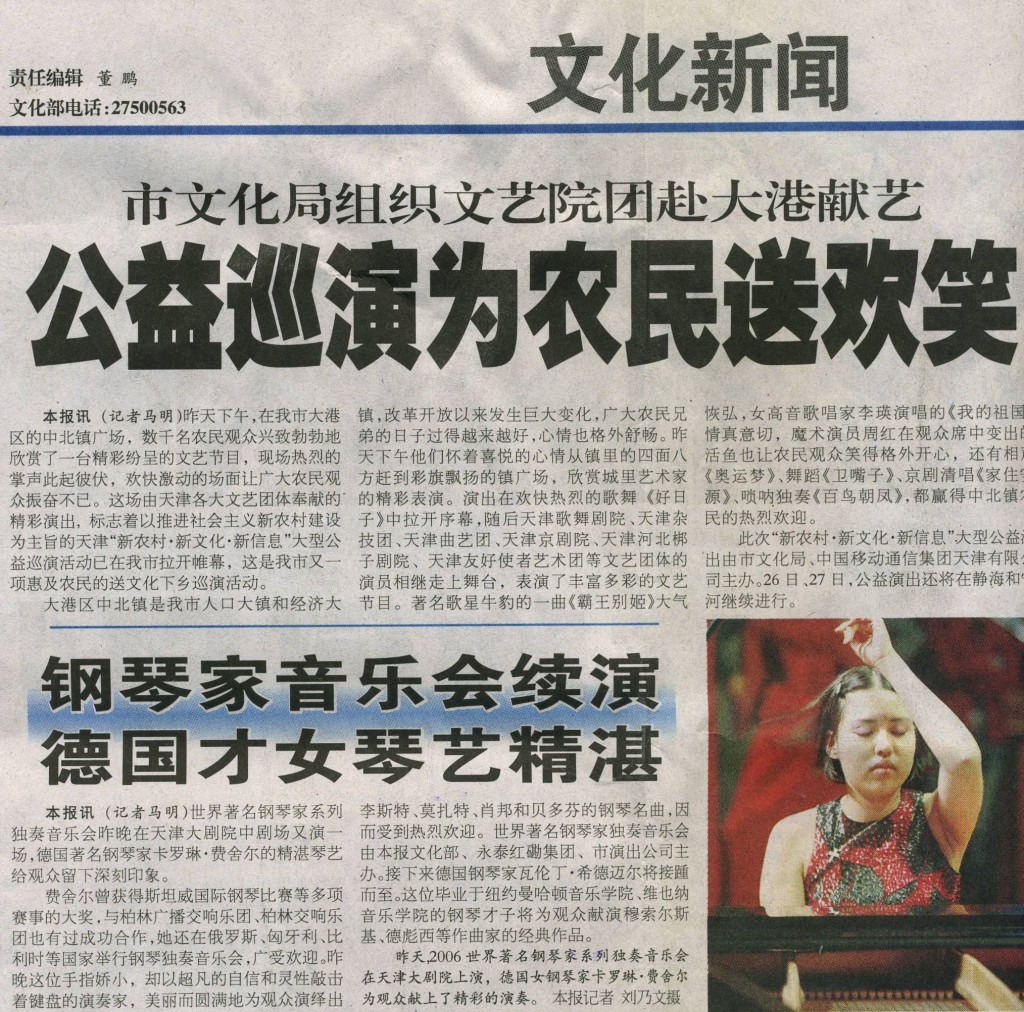 Tianjin Evening Newspaper, China, 25. Oktober 2006
---
Caroline Fischer performed last evening in the Haikou Great Hall of the People


Hainan Daily, China, 23. Oktober 2006
---
A beautiful pianist visited Haikou – Caroline Fischer will perform this evening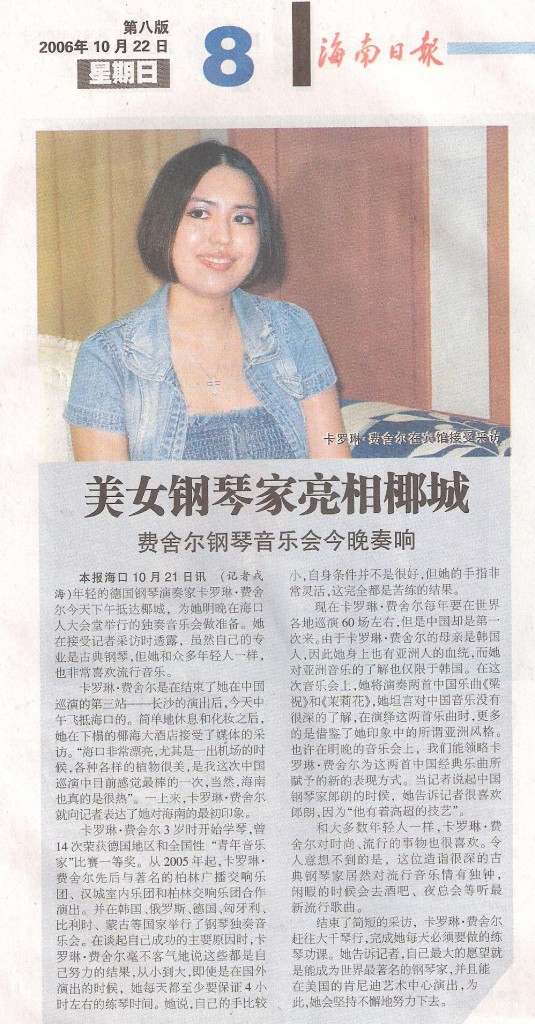 Hainan Daily, China, 22. Oktober 2006
---
Caroline Fischer, already one of the very greats
Right from the very first bars, the listener is gripped by Caroline Fischer's interpretation of Liszt's "Campanella". The 21 year old pianist, already highly acclaimed on the concert stage, leaves an outstanding impression on us, which is confirmed in what follows. She is an exceptional artist, this much is certain.
Caroline Fischer's interpretations are profound, powerful and expressive; in every respect they do justice to the spirit and score of the composers selected.
The Scarlatti Sonata in D minor, K 141 is imbued with precisely the form and quickness to which it is naturally entitled. The hammering chords and abrupt breaks are perfectly suited to Rodion Shchedrin's "Basso Ostinato" dating from 1961, a work influenced by Prokofiev and Stravinsky. Caroline Fischer's polished, luminously clear attack in Chopin's C major Etude op. 10 Nr 1 leaves us hoping that she will expand her discography still further in this direction. Her Mozart interpretations are characterized by coherence and a youthful freshness. At every moment, the A minor Sonata KV 310 (1778) appears truthful. The singing, restrained Allegro at the start stands in convincing contrast to the ruthlessly open Andante con espressivo which, without losing any continuity, leads naturally into the Finale – a cheerful, lively and magnificently fashioned Presto. Caroline Fischer chose three Preludes from Debussy's Livre II (1913), which she performed entirely in the spirit of the French composer, exercising a high degree of care with respect to tone colour, articulation and rhythmic cascades – for instance in "Feux d'artifice" (Nr 12). Without doubt, Caroline Fischer already counts among the very great artists of her profession.
Jean-Luc Caron, resmusica.com, 8. October 2006
---
Exhilarating piano playing
Following her notable successes at numerous international competitions and piano recitals, the young Berlin pianist Caroline Fischer now appears with a virtuoso recording.
The 22 year old pianist clearly demonstrates her artistic calibre with her first recording. She masters all the technical demands of literature in a most impressive manner, with the certainty of a sleepwalker coupled with a controlled attack. The heart of this collection is a touchingly simple version of Mozart's A minor Piano Sonata, Special mention should be made of the organic cantilena in the Andante which she plasy as if in a single breath. A high degree of Artistic sovereignty is also noticeable in Liszt's operatic paraphrase "Reminiscences du Don Juan": the interpretation possesses great depths, above all in those passages which quote he dramatic commander motif. The extended varations section on the duet "La ci darem la mano" at first patters pleasingly, before attaining great suggestive power as it develops.
The Liszt piece is preceded by a romanticizing interpretation of Scarlatti's D minor Piano Sonata K 141. The realisation of the rapid note repetitions is accomplished respectably. Liszt's "La campanella" and Debussy's "Feux d'artifice" are sparkling fountains, while Rodion Shchedrin's constant "Basso ostinato" reaches a rousing rhythmic apotheosis in Caroline Fischer's hands. Her interpretation of Liszt's 13 th Hungarian Rhapsody is marked by a directness of musical language and a natural bravura which is never superficial. The recording is characterises by the highly brilliant tone of the piano. The filigree acoustic of the Mendelssohn Saal in the Leipzig Gewandhaus is ideally suited to Mozart and Debussy.
klassik.com, 12. August 2006
---
CD review written by Peter Cossé at klassik-heute.com
The Genuin label is proud to sponsor the 22 year old Berliner Caroline Fischer, an interpreter whose performances decisively separate her from the mass of other talented, industrious pianists. She performs her programme, which contains a number of virtuoso masterpieces, not only with propriety, but also with a commanding degree of imagination which compels the discriminating listener to sit up and take notice. Caroline Fischer has something to say across the whole board of the musical literature presented here, she endows the "Hungarian" Nr 13 with flair and gypsylike pathos, not only in the short grace notes, but also in the dance-like, frivolous finale. She knows how to colour the dramatic vicissitudes of the Don Juan fantasy and to make them stand out from one another – this is piano playing of great solidity which, at decisive moments, also ignites with burning intensity.
She imbues the accompanying phrases of Mozart's A minor Sonata with credibility – something which rises above mere mechanical precision! The note repetitions of the Scarlatti Sonata are executed in a whirl. The name Fischer is legendary in the musical wonderland of pianists and conductors: Annie, Edwin, Edith, Ivan, Adam, György. Caroline will claim her place among this family of Fischers, of that I have no doubt.
Peter Cossé, klassik-heute.com, 1. August 2006
---
Caroline – New star on the piano horizon
---
2005
---
An exceptional pianist's keyboard pyrotechnics.
Caroline Fischer shines in castle ballroom/ immense technical reserves/ masters even Beethoven Sonata
At an astonishing concert in the castle ballroom, under the patronage of Alexander fürst zu Schaumberg-Lippe, the exceptional young pianist Caroline Fischer ignited a pyrotechnical performance on the keys of the grand piano.
The petite artist gave battle serenely. Thanks to her immense technical reserves, the national and international prize winner mastered the physically demanding movements and furious cadence with a cool, purposeful nonchalance. As if constantly regenerating her powers, the soloist took all challenges in her stride; Liszt's cleverly illuminated "Hungarian Rhapsody No 13", the infectious "La Campanella" and even his neck-breaking reminiscences of Mozart's opera "Don Juan". Her craftsman like ability bore her through the trials of this finger torture unscathed, without her playing ever seeming affected or pretentious .
In the meantime, this as "Piano-miracle" acclaimed artist presented us Chopin´s "Scherzo Nr 2 in b minor". Her interpretation was tempestuous and let nobody doubt her virtuosity. Caroline Fischer crowned the performance with three colourfully textured Christmas Carols, climaxing with a particularly beautiful and sensitively performed "Silent Night". The audience were astounded by the young artist's performance.
Bückeburg, 13. Dezember 2005
---
Superlative piano notes
Caroline Fischer harvests enthusiastic applause for her phenomenal piano performance
Ludwig van Beethoven's "Appassionata" begins; a compulsory piece in a master pianist's programme. The exceptional quality of the evening's concert is tangible even after the first few bars.
The artist takes the audience on a 90 minute journey through the world of music. With the two pieces that follow, Liszt's "Hungarian Rhapsody" and "La Campanella" the pianist proves , that despite her youth, she is a genuinely gifted musician. Her brilliant rendition of Frédéric Chopin's "Scherzo no. 2" showcases her excellent technique, her fingers gliding about the keyboard as if guided by a magical hand.
Liszt's " Réminisences du Don Juan de Mozart", a piece avoided by many concert pianists because of its difficulties, was without doubt the climax of the evening. Caroline Fischer also soared over this "hurdle" in style and consequently harvested the enthusiastic applause of a fascinated audience.
Märkische Allgemeine, Rheinsberg, 10. November 2005
---
A new star on the piano horizon Caroline Fischer
---
Magnificent piano playing in the church
"The Storkower Church has never experienced anything like this" enthused mayoress Christine Gericke, as she presented Caroline Fischer with a magnificent bouquet. The entire audience still seemed intoxicated by the performance of the 21 year old Berliner for whom critics have found such accolades as " lioness of the keyboard" and "piano-miracle". The petite artist merely gave a relaxed smile,, making it hard to imagine that it was she who had just ignited this pyrotechnical rendition of Liszt's "Don Juan"; her powerfully hammered chords, runs and trills bringing out the ever changing variations on themes from Mozart's "Don Giovanni" such as the well-known lyric "Take my hand my life"
Liszt is notably challenging for pianists and many give the devilish difficulties of "Don Juan" a wide berth. However, in her hands, travelling so fast as to seem invisible, even the first movement of Beethoven's "Appassionata" turns into a tempestuous chase.
Märkische Oderzeitung, Storkow, 7. November 2005
---
Home match on the piano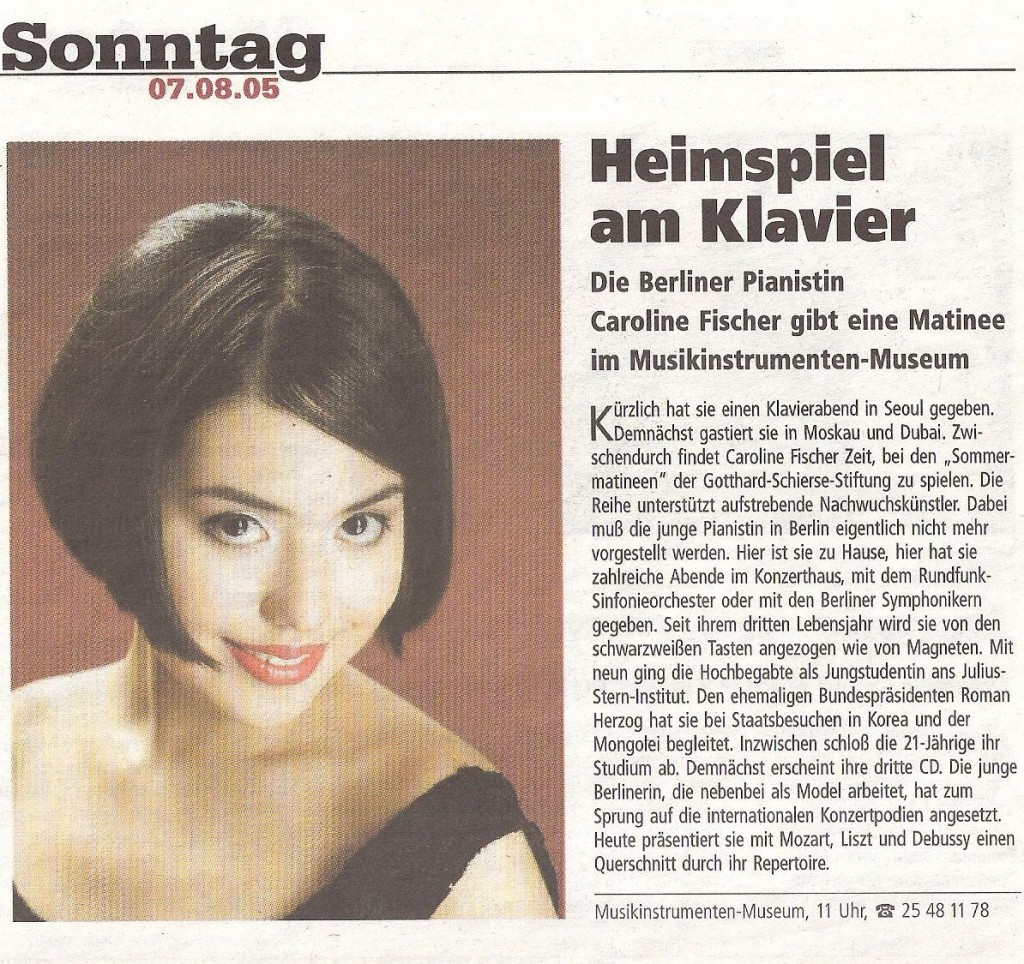 Berliner Morgenpost, 7. August 2005
---
The genius pianist Caroline Fischer from Berlin

Kumho Art Hall Magazine, July 2005
---
Glittering Piano Recital in the Konzerthaus Berlin
Every seat in the concert hall was taken, with good reason: the 20 year old pianist Caroline Fischer, without any doubt an exceptional talent, already has a loyal following and acquires new fans every time she appears. This evening she once again demonstrated her impressive qualities as a "lioness" of the keyboard. Equally breathtaking were her skills as a musical magician: bewitching landscapes of sound were conjured up with the self-assurance of a sleepwalker, yet with the greatest intensity.
The audience was captivated right from the start by Mozart's sombre and moving A minor Sonata. Caroline Fischer's romantic orchestral interpretation was thoroughly convincing. The slow second movement, which she transformed into a magnificent operatic aria, was especially impressive.
It was followed by four preludes by Debussy. Whether it be the fairy-like dreamscapes in the first piece, the forces of nature unleashed in the second, the trenchant character portrait in the third or the virtuoso fireworks in the last: it was a real joy to observe Caroline Fischer working her musical magic. She mastered the hair-raising difficulties presented by the score with a lightness and elegance bordering on the miraculous.
The second half of the concert was given over entirely to Liszt, a composer who seems to have been made for Caroline Fischer. In her hands, poetry and virtuoso brilliance blend into a rare magical unity – in the Hungarian Rhapsodies as well as in the terribly challenging "Don Juan" fantasy. The latter work, a free variation on Mozart's "Don Giovanni", epitomises the very pinnacle of virtuoso art. Caroline Fischer's interpretation of this composition is all the more astounding on account of its supreme ease. It remains a mystery where this young pianist draws her never-ending power and energy from, in order to draw a concert programme like this to a close in such an effortless way.
Caroline played a fiendishly difficult encore, Liszt's "La campanella". The audience went wild with enthusiasm.
Felix Stephan, Berlin, 28. January 2005
---
A new star on the piano horizon

Berliner Salon Magazin 2005, page 1
---
Ein neuer Stern am Klavierhimmel

Berliner Salon Magazin 2005, page 2
---
2004
---
Gartensaal: Dazzling Piano Recital – Brilliant playing by the young pianist Caroline Fischer
The young artist had prepared a programme of compositions with which world-famous pianists such as Rubinstein, Horowitz or Arrau once shone.
If Mozart's great A minor Sonata KV 310, with which she opened her recital, demonstrated that Caroline Fischer has at her command flawless technical clarity, expressiveness and creative power combined with musical intelligence, then the following, highly virtuoso works showed that she also possesses that physical disposition which belongs to all great piano playing.
Whether it be the "Faux d'artifice", with its immense challenges, the dazzling finale of Debussy's 24 Préludes, which she performed with bravura, or the brilliant performance of the waltz fantasies from Chopin's Scherzo Nr 2 in B minor op. 31, which she executed with vigour and vitality, Caroline Fischer is full of energy and breathtaking confidence.
Liszt's highly virtuoso compositions "Rhapsodie espagnole" and "Hungarian Rhapsody Nr 2" were performed with temperament and intensity without showing any sign of fatigue. A Chopin Etude and Fantasie were played as an encore, bringing this dazzling piano recital in the Gartensaal to a close. The audience was brimming over with enthusiasm.
Wolfsburger Allgemeine Zeitung, Wolfsburg, 26. November 2004
---
2003
---
Ms Fischer is a young artist of high professionalism and profound musicality. She is able to grasp the pieces she plays in all their depth and complexity, developing them into lively and intensive interpretations. Her piano playing, characterised by temperament, power of expression and technical expertise, captivates and delights her listeners. Her creativity and commitment invariably enable this highly talented young pianist to elicit convincing new dimensions from the works she performs.
The numerous prizes Ms Fischer has won are also testament to these qualities.
Inspite of her young age, Ms Fischer has already given a considerable number of international concerts. Her performances have always been enthusiastically received by both the audience and the press.
Prof. Paul Dan, University of Music and Performing Arts Mannheim, Mannheim, 25. December 2003
---
Self confident star on the piano horizon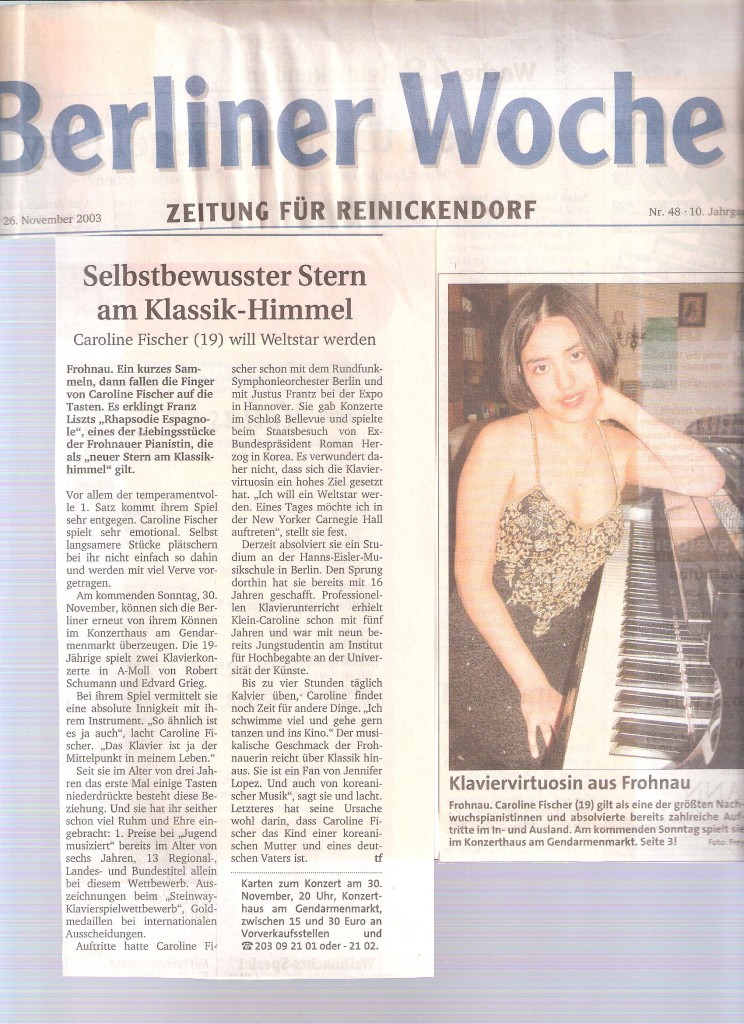 Berliner Woche, 26. November 2003
---
Caroline – New star on the piano horizon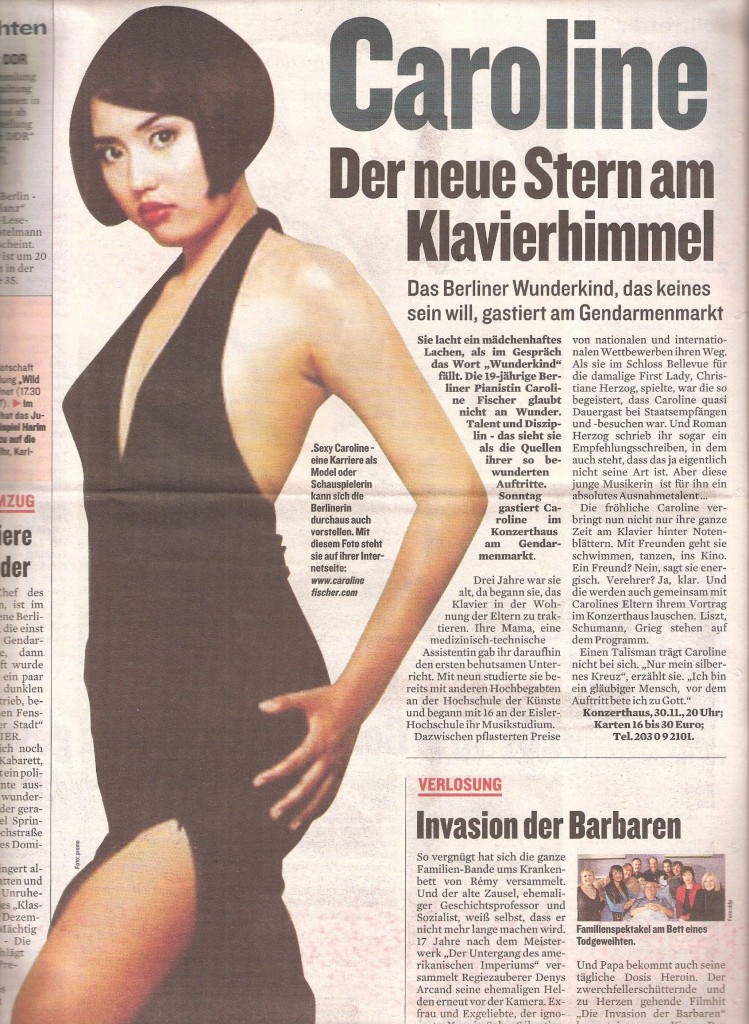 Berliner Kurier, 25. November 2003
---
Caroline Fischer – Pianist shows the world
The audience were presented with a concert of extaordinarily high-quality
The pianist's powerful, chord-laden and affecting performance left the audience speechless. Not a sound was to be heard between movements. " This concert is a cultural highpoint for Wittenberg" "The concert is excellent – an enrichment". Caroline Fischer gave numerous encores. Visibly moved, she bowed before the audience's standing ovation.
Mitteldeutsche Zeitung, Wittenberg, 18. November 2003

---
Musical rendezvous in minor key
A piano evening with Caroline Fischer in Oranienburg Castle
An enthusiastic audience showed Pianist Caroline Fischer, their gratitude for the afternoon's entertainment with resounding applause. With ease, Caroline Fischer's fingers flew across the keys of the concert piano, ringing out compositions from Ludwig van Beethoven (Sonata no. 23 in f-minor "Appassionata"), Frédéric Chopin (Scherzo no 2 in b-minor) and Franz Liszt (Spanish Rhapsody). Fascinated, they listened, enchanted as much by the pianist's gestures as with the melodies which she seemed to feel and bring to life.
A genuinely accomplished concert – class artistic appreciation of the first order. Not only was the performance note perfect but one could almost touch the melodies that filled the room.
Oranienburger Generalanzeiger, Oranienburg, 4. November 2003
---
A pianist out of passion and a portrait from Frohnau pianist Caroline Fischer
---
Caroline Fischer wins three prizes at the music festival

Strelitzer Zeitung, 29. September 2003
---
Piano genius from Reinickendorf
---
Young Virtuoso Takes Audience by Storm
The 19 year old Caroline Fischer is no stranger, above all not in Berlin. Since the age of 13 – but already before then – when she performed at state visits and official receptions (in the main at the "Bellevue" palace in Berlin, but also at the Hanover EXPO, the ANUGA in Cologne etc) she has drawn the attention of enthusiastic audiences to her great talent. She has repeatedly claimed first prize at the annual Steinway Piano Competition, as well as at regional, state and federal competitions organised by "Jugend musiziert". In addition, she has, on many occasions, received the first prize at numerous international competitions both at home and abroad, has been the soloist in piano concertos by Mozart, Mendelssohn-Bartholdy and Grieg, has also appeared as a soloist in Germany, the Czech Republic, Russia, Korea and Mongolia. Probably one of the highlights of her young career to date was her assistance in organising the cultural programme surrounding the state visit of the Federal President Roman Herzog ret. to the Republics of Korea and Mongolia.
And now to the piano recital she gave to a full house in the chamber music auditorium of the "Konzerthaus" in Berlin; it was a highly demanding programme which, as was only to be expected, she showed herself to be capable of mastering in its entirety. The professional competence with which she approached the works she had chosen, bringing each one to a dazzling climax, left no-one in any doubt that they were in the presence of a truly mature artist who was able to delight her audience to the fullest extent. There was not a trace of complacency, no vain, showy affectation. Neither was there any hint of insecurity whatsoever. Rather, each item on the programme benefited from a natural, engaging gravity which was virtually ideal.
It was astonishing that her mature mastery, not only in matters of technique, but also – and above all – in the way she shaped the interpretative poetry of her recital, almost invited comparison with the highest achievements of internationally acclaimed, elite pianists. With regard to her fidelity to the score, and the precision of dynamics, articulation, phrasing etc, in short all the composer's performing instructions, it may be said that Caroline Fischer's interpretation has already attained an audible predominance over those of so many famous artists.
Beethoven's "Appassionata" op. 57 which opened the concert – certainly no comfortable curtain raiser – was approached with a furore, but at the same time with such concentration and a fanatical attention to detail that one was forced to consider at length whether one had ever heard the work in such a similarly fascinating way before. Equally gripping was the way she attacked Liszt's "Spanish Rhapsody", a highly virtuoso pastiche of Spanish dances and themes which has inspired both Romantic and later composers to produce some extremely well-known compositions. Chopin's scherzo Nr.2 in B flat minor op.31, which is so often trampled to death by competent as well as by less able interpreters, was in Caroline Fischer's hands "taken by storm" with such creative freshness and technical flawlessness that one could imagine one was encountering the work for the first time. Here, just as in the lyrical passages of Chopin's B minor sonata (op.58) which followed, there were so many magical nuances of touch to admire and enjoy that one could not help asking how a 19 year old person could have matured to produce such a lean, artistic performance full of profound emotional depth. Such astonishing mastery came to the fore in the numerous and considerable difficulties posed by the Chopin sonata, exemplified by the complex, imitative modulations of the development section in the first movement. The brilliance of the second movement (scherzo) and the finale (presto) took on a remarkably radiant and sustained splendour in Caroline Fischer's performance.
It is characteristic of the high degree of stylistic development that this young artist has already achieved that, for a second encore (following on from Chopin's Fantasy-Impromptu op.66), she chose neither an early nor a middle-period composition, but rather a demanding late work by the Russian composer Alexander Scriabin, whose Etude Nr.3 op.65 she performed with remarkable resoluteness.
After the fabulous impression that this recital left, not only on me, but also on the overwhelming majority of the audience in the packed auditorium, an urgent appeal should go out to all concert organisers, orchestral managers etc; do not leave the public waiting too long for the next concerts of this wonderful talent!
Wolfgang Schaschowa (holder of the "Deutscher Schallplattenpreis" for piano), Berlin 27 May 2003
---
18-year-old female thrills the audience

Berliner Morgenpost, 12. Januar 2003
---
2002
---
"I have followed Caroline Fischer's development ever since she passed the entrance examination of the University of Arts (as a young student) at the age of nine. In the years following this, Caroline Fischer has not only fulfilled everything that we expected of her, but has clearly exceeded these expectations. In competitions and concerts, in which I was present either as a member of the jury or as a listener, she totally succeeded in convincing the experts by virtue of her mature artistic and piano playing achievements. Since I am not able to estimate the boundaries of Caroline Fischer's artistic and professional progress, I am of the opinion that, in her case, the prospects of an artistic career are entirely likely and realistic."
Prof. Georg Sava, "Hanns Eisler" College of Music, Berlin, 7 August 2002
---
"Besides her brilliant technique, Caroline Fischer possesses a very natural musicality and a mature personality astonishing in one so young. Her interpretations are unique and yet at all times intimately related to the letter of the score. As a soloist, she communicates with the orchestra in an intensive way, thus creating an atmosphere which makes genuine co-operation possible."
Florian Ludwig, Assistant Director of Music, Bremer Theatre, Bremen, May 2002
---
2001
---
"Caroline Fischer is an extraordinarily talented pianist. The limits of her talent, which has continued to develop in such a positive way, are not yet in sight."
Prof. Michael Vogler, Deputy Vice-Chancellor "Hanns Eisler" College of Music, Berlin, 8 October 2001
---
"Her playing left me with a lasting impression which only strengthened my conviction that this young pianist deserves every support."
Prof.em. Amadeus Webersinke, "C.M.v.Weber" College of Music, Dresden, 7 September 2001
---
2000
---
Uncompromising thunder
"Caroline Fischer, as the oldest of the soloists performing in the afternoon, tackled the first movement of Grieg's piano concerto expertly. She subjected the technical, as well as the musical, details to a strict, very controlled grasp of musical structure. The many, virtuoso figures were executed with a vivid clarity which extended to uncompromising, thunderous double octaves. The performance itself avoided all kinds of romantic effusiveness, at nodal points of the work, tone colours were successfully brought out by realising the composer's performing instructions in an objective way."
Berliner Zeitung, Berlin, 21. March 2000
---
1999
---
Recommendation from Federal President Roman Herzog 
My wife first established contact with Caroline Fischer in 1998. After listening to a performance at Bellevue Palace, she was so enthusiastic about the artistic achievement of this German-Korean pianist, who was only 13 years old at the time, that she asked her to arrange the artistic side of a tea on 15 May 1988, that my wife was organising for the wives of the heads of legations who had been accredited to Germany. This was carried out in such an impressive manner that I decided to allow Caroline Fischer to assist in arranging the cultural programme surrounding my state visit to Korea and Mongolia in September 1998. She carried out this task magnificently in both countries, and it enjoyed great success with audiences. As a result of her performance in Seoul, she received an invitation to go to Korea, and in spring 1999 she gave a Mendelssohn concert with the Korean Chamber Orchestra in the largest concert hall in the Korean capital which aroused considerable public attention.
On 20 February 1999, on the occasion of the order of the Federal Republic of Germany being conferred on Hannelore Kohl, Caroline Fischer performed at Bellevue Palace for the second time, with great success. I know that Caroline Fischer has won first prize at numerous national and international piano competitions, most recently on 22 May 1999 when she took part in the federal competition "Jugend musiziert" in Cologne. In my view, she is such a promising talent that I have decided to continue supporting her in the future and – contrary to my usual practice – to place this letter of recommendation at her disposal.
The President Roman Herzog, Berlin, 19. June 1999

---
Outstanding pianist meets new conductor

Outstanding pianist meets new conductor (translation)

On March 22, at 7:30 p.m., the Russian National Orchestra under the direction of Tae-Young Park and 15 year old piano genius Caroline Fischer will appear together at the Seoul Arts Center, performing Mendelssohn's Piano Concerto No. 3 (premiere in South Korea). During the state visit of German Federal President Roman Herzog in South Korea last year, Caroline Fischer became known as a "child prodigy" on the piano, when she gave a special concert at the Shilla Hotel in Seoul. Among several awards, she took home first prize at the 1994 Steinway International Piano Competition.
The Dong-A Ilbo and The Korea Herald 22. March 1999
---
Rising stars in the music world: Young musical talents visit their roots
Korean German pianist Caroline Fischer – Solo Concerts: 17. and 22.March 1999/ Performance With the Korean Chamber Ensemble- 6 Times Award Recipient of the Prestigious Competition "Jugend musiziert".
Rising stars in the music world: Young musical talents visit their roots
Korean German pianist Caroline Fischer – Solo Concerts: 17. and 22. March 1999/ Performance With the Korean Chamber Ensemble- 6 Times Award Recipient of the Prestigious Competition "Jugend musiziert". (translation)

Two emerging artists, who were born overseas, will share the same stage in their homeland. One of them is Caroline Fischer, age 15, born and raised in Germany. Both of them have been selected by the cultural delegation with regard to their country of birth and their outstanding talents. Caroline is an important person, who attracts attention, since a trouble-free future awaits her.

Caroline Fischer's mother is from South Korea..During a state visit of German Federal President Roman Herzog in South Korea last year, the young pianist stepped into the limelight. She gave an impressive special concert performance together with the Korean Chamber Ensemble.

Her track records of winning awards are extraordinary. She has been awarded the first prize at the German national youth competition "Jugend musizert" six times in a row since 1990.This competition was also a stepping stone for another talent, star violinist Anne Sophie Mutter.

Caroline Fischer will perform with the Korean Chamber Ensemble on March 22, at 7:30 p.m., at the Seoul Arts Center. Felix Mendelssohn's Piano Concerto in A minor will have its premiere in South Korea.
Seygye Times, 13. March 1999
---
1998
---
Das vom deutschen Bundespräsidenten veranstaltete Konzert – Der Tag mit Chopin und Rossini, nicht mit Politik und Wirtschaft

Auditorium, Seoul, Oktober 1998
---
Concert Organized by the German Federal President – A Night with Chopin and Rossini, not with Business or Politics
The German President, who came with his musical entourage, grabbed our attention with his concert, which he had organized to commemorate his visit. The concert, which was held on the 16th of September, lasted over an hour and Caroline Fischer was introduced in his welcome address by the Federal German President. In his speech he stressed: "The 14 year old pianist Caroline Fischer, who is going to play for us this evening, is a symbol of the long-standing friendship which exists between Korea and Germany. One day she will contribute to the Korean and German nation's glory. Today's topics are not politics or business, but instead we have music by Chopin and Rossini." After his announcement, he took a seat in the front row and enjoyed the music performed by the German and Korean musicians.
Caroline Fischer took part at the German national music competition "Jugend musiziert" at age six and has won the first prize five times in a row. At the age of 9 she received her first piano lessons at the Berlin School of Arts. In 1994 she was awarded the first prize at the Berlin International Piano Competition and gave a piano concert with the Radio Symphony Orchestra of Berlin in 1993.She is currently enrolled as a junior student at "Hanns Eisler" Academy of Music. Her musical interpretation was very impressive, despite her age of fourteen years you can feel her musical depth and artistic maturity.
Auditorium, Seoul, Oktober 1998
---
"The German President, who came with his musical entourage, grabbed our attention with his concert, which he had organised to commemorate his visit. In his speech he stressed: "The 14 year old pianist Caroline Fischer, who is going to play for us this evening, is a symbol of the long-standing friendship which exists between Korea and Germany. One day she will contribute to the Korean and German nation's glory."
Auditorium, Seoul, October 1998
---
Mongolian Newspaper, 22. September 1998

Mongolian Newspaper, 22. September 1998
---
Korean German pianist Caroline Fischer traveling with German Federal President Roman Herzog 
Korean German pianist Caroline Fischer traveling with German Federal President Roman Herzog (translation)

Caroline Fischer (age 14), a Korean German pianist is the youngest person among the delegation, which accompanies German Federal President Roman Herzog in South Korea. During the concert she captivated the audience with pieces from Mendelssohn and Chopin.
She is considered a "young genius" with regard to her incredible talent for playing the piano. At age six, she participated at "Jugend musiziert", a music competition for children and adolescents in Germany, and has won the first prize five times since 1990.
In 1994 she also won the first prize at the prestigious  Steinway International Piano Competition. Caroline Fischer passed the entrance exam to the Berlin University of Arts at age nine and is currently studying at the "Hanns Eisler"  Academy of Music. After her stay in South Korea she will continue traveling to Mongolia with Federal President Roman Herzog and his delegation.
The Chosun Ilbo, 17. September 1998
---
1994
---
Brilliant performances by young musicians inside the concert hall of the music academy
"Above all the 10 year old Caroline Fischer, who has already had many years experience with competitions, her fingers dancing rapidly and with incredible lightness over the keys."
Berliner Morgenpost, 05. 1994
---
1993
---
Young talents on the old grand piano
"The nine year old Caroline Fischer's Haydn performance is impressively clean-sounding"
Berliner Morgenpost, 15. November 1993
---
1991
---
Young pianists excited the audience at the Steinway concert
"Sometimes speed seems like sorcery. For example when the seven year old Caroline Fischer performs a lightning piece from Ibert's "Histoires" with her deft little fingers."
Berliner Morgenpost, 13. November 1991
---
1990
---
Stars of tomorrow showcase their talent at the Kemperplatz
"The little fingers of the six year old already attack the keys with great self-confidence and spirit. Caroline Fischer gave us performances whose sound was both beautiful and full."
Berliner Morgenpost, 20. November 1990